Futuristic and smart skin treatment nowadays replaces the cosmetics we've been used to for decades. Dermatologists all over the world have been speaking about strengthening and rehabilitating the skin barrier internally and externally, in order to solve problems such as acne, dryness, seborrhea and early aging of the skin.
The "book Treating Your Skin Wisely" is a self-help book: I'll be guiding you step by step on how to improve your skin's condition. you'll be surprised with information which you hadn't considered, in every chapter you get to. Information which you assumed was wholly accurate will suddenly be discovered as unsubstantiated, and you will become informed consumers.
:Purchasing my book in English
Why MY BOOK and not information from internet or social networks?
1. Most cosmetics companies and influencers still sell us products such as acids, peeling and derma-rollers, which destroy our skin. They aren't up-to-date with their long term effects on the skin.
2. You won't find the full and comprehensive information in short , commercialized and superficial posts on the social networks.
3. My book will place your level of knowledge high above that of most people, who make do with information that they get from commercials and various beauty consultants or nutrition experts (whose aim is to sell products and workshops, and whose reliability, experience and training is to be doubted).
The skin remembers everything:
Even what we did 20 years ago. We should try as early as possible to understand how to treat it and how to choose the suitable (natural as possible) products.
It all appears in the book I've written for you in an accessible language for every age.
So, update your knowledge using the book I wrote for you, and you'll be able to fix what's possible to fix, and make less mistakes in the future.
Reading this guide book is the tried and true way of really understanding this area that concerns us: Healthy & Good Skin.
:Purchasing my book in English
"…I encourage my girls to read this book so that it can teach them to eat right, use the correct products for treating their skin, and not make the same mistakes I've made. I really like the book…"
"…I thought I bought a book that was just about skin, but I discovered so much more beyond that. The book gradually builds the knowledge within the reader's mind… I discovered that despite thinking I knew, I actually didn't know that much about good treatments for my skin…"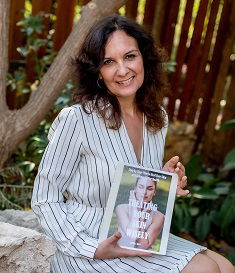 I'm Ophra Dan, author of the book "Treating Your Skin Wisely", translated from Hebrew by Dorit Renov.